Thursday, [10:13] PM
Dear Friend,
Thanks to a never-ending inbox, I can no longer answer questions from the great unwashed masses who stumble upon my blog.
But for the knights and knightettes in my Marketing Camelot, I gladly do a Q&A call every month.
Some people prefer to ask me questions live… and others prefer to send their questions by e-mail and have me record my answers.
As I was rummaging through my file cabinet I ran across a question a subscriber sent me a couple months ago.
I thought you might want to check out my answer because I've personally made a LOT of cashola with this exact advice.
Q: I read your post How To Make MILLIONS In The Guru Business and it pretty much put the icing on the cake.

What's funny is that Frank Kern even mentions in his List Control program that you need to form a type of syndicate (aka the good ole boys club) in your niche; and it's exactly what you mentioned in one of your points in your post.

So that brings me to this… who should I learn from?

I'm a 25-year old aspiring entrepreneur but I don't want to learn from the wrong people. Could your provide some recommendations?
DD: In my most humble (but accurate) opinion, the very best "Internet Marketing gurus" you can possibly learn from are…
The dead mail order marketers!
Here are the best ways to mentor under these guys:
The Robert Collier Letter Book
– Robert Collier
My First Hundred Million
–  E. Haldeman-Julius
Breakthrough Advertising
– Eugene Schwartz
How To Write A Good Advertisement
– Vic Schwab
7 Steps To Freedom
– Ben Suarez
(NOT a dead mail order marketer.
He's still alive… and EXCEPTIONALLY good.)
My Life In Advertising
– Claude Hopkins
The Gary Halbert Letter
– Many of the issues are available here…
The Boron Letters
– Gary Halbert – Available free here…
Scientific Advertising
– Claude Hopkins
Tested Advertising Methods
– John Caples
The Lazy Man's Way to Riches
– Joe Karbo
The Thomas Hall Letter & Guides
– Thomas Hall
(Out of print but soon to be made available FREE
to all The Doberman Dan Letter subscribers.)
Here's a HUGE jealously guarded secret
of the most successful marketers in the world…
Master the first six chapters in Breakthrough Advertising by Eugene Schwartz and you'll be so far ahead of your competition… they don't even have a PRAYER of catching up.
In fact, I'm doing a coaching program soon to help you do exactly that.
It ain't gonna be cheap… but Doberman Dan Letter subscribers will get in FREE. (Details coming soon.)
All the best,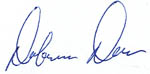 P.S. I know my opinion is biased… but in addition to all the books I recommended, I think you'll find some valuable info here on DobermanDan.com, too.