Friday, [10:18] AM
Dear Friend,
Remember when I told you about my new little social media/marketing test in this post?
Well, it has begun.
The idea is to see how much free traffic (and hopefully new DD.com subscribers) I can generate from YouTube.
Right now is an incredibly inconvenient and stressful time in my life to start a new project… but there is never a perfect time to get something new started. There are ALWAYS challenges to deal with. If you wait for the perfect time, you'll never start anything. You just have to get started regardless of the challenges.
So here's video#1.
And I've already learned something…
I am definitely out of my comfort zone appearing on video. Put a guitar in my hand or let me goof around and be silly and I enjoy it… but this kind of stuff… not so much. In fact, I think that comes across in the video. I look like I'm uncomfortable.
Whatever.
Just like everything else I've ever done, I'm just going to put the blinders on and do it. Hopefully I'll get better as I go along.
Enjoy!
All the best,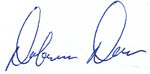 P.S. The video quality is very high on the original file. I wonder why it looks so grainy on YouTube?