Thursday, [11:07] AM
Dear Friend,
I just tore into my Dan Kennedy newsletters for the month.
Not only did I get some inspirational material to swipe for the welcome webinar with my new Kitchen Table Business proteges… I also ran across THIS in Dan's Marketing To The Affluent newsletter: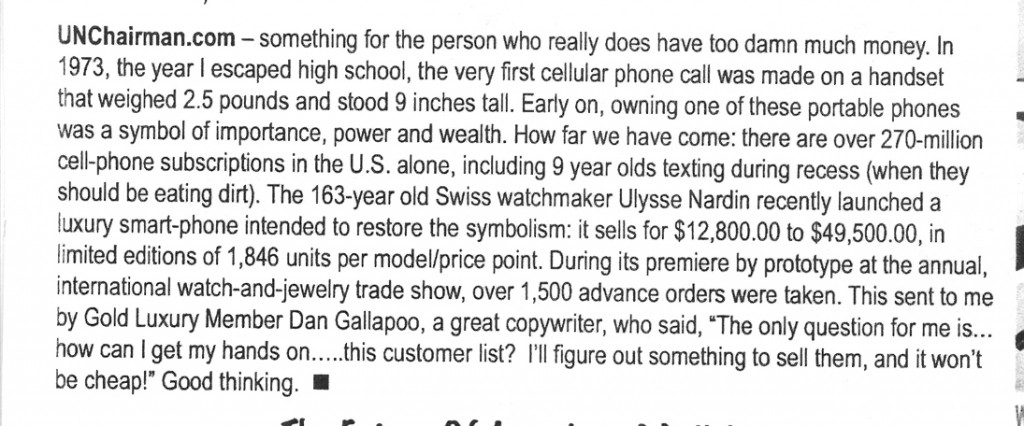 It's always nice to be recognized by your peers… especially someone like Dan Kennedy.
Anyhoo… here are the lessons of the day:
Opportunities are everywhere. You just have to constantly have your antennae up. (BTW, I found this article in the Robb Report. I read it fairly often, specifically looking for opportunities like this.)

 

There is no lack of money. C'mon! 1,500 advance orders (paid in full!) for a $50,000 cell phone! The money is out there and LOTS of it is being spent. You just need to figure out WHERE it's being spent and put yourself in the middle of it.

 

Never miss an opportunity to promote yourself. (If you didn't catch it, that's exactly what I'm doing here.) And more importantly…

 

Let OTHERS sing your praises.
When other people say how great you are, it carries a lot more credibility than you saying it.
In fact, if you have to say you're a "great copywriter" in every issue of your newsletter and blog… you wind up looking like a braggart with low self esteem issues.
And saying you're an "excellent copywriter" is a pretty good indicator you're not. The truly great ones never have to say it. Their work (and other credible people) say it for them.
So a big thank you (again!) to Dan Kennedy.
It feels really good to be recognized by the very person responsible for me getting into this crazy direct response business.
I hope you experience something like that soon.
All the best,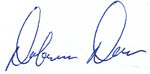 P.S. My blog has attracted some of the coolest, sharpest and most astute entrepreneurs, marketers and copywriters from around the world. The real DOERS. (Or soon to be doers.)
The flaky, do-nothing, thumb-sucking, whine and blame the world, take no personal responsibility critic types seem to wash out VERY quickly… thank GOD!
To be totally transparent with you, I purposely do things to repel them… as fast as possible. I don't want the rest of us to catch whatever it is they're infected with.
The simple fact that you're reading this right now is a pretty good indicator you're one of the winners.
And I'm glad you're here.