I see very few Internet marketers whose wells run as deep as people like me who started in the pre-internet mail order days.
In fact, simply by labeling yourself an "Internet marketer" or "online marketer" is one of the most limiting things you can do for your income and business growth.
(I did an entire podcast about this. Many were SHOCKED at the reason this messes up your mind, therefore your business.)
Listen… I've never seen it harder or more expensive to market online as it is now.
Heck, even the mighty Google is struggling to get enough market share using only online marketing.
Check out the irony in this:
The $70 billion online advertising giant's two most successful marketing tactics for promoting their online advertising network is…
[insert drum roll]
Direct mail and outbound "cold" phone calls!
So if even Google can't accomplish what they want to do using online marketing exclusively, maybe YOU should be exploring other media, too.
The savviest marketers know this:
Depending on your market or niche, launching a business online will probably be the most difficult and most expensive way to do it.
And it's also the "lowest chance of success" way to do it.
There are MUCH easier and MUCH less expensive ways to do it.
But the Internet marketers can't help you with that. Their minds are completely stuck in a box.
You see, you gotta have the guidance of somebody who has been successful in the mail order days.
Because what was old… and many claimed was dead and buried… is new again.
And it might be the ONLY thing that will help a new entrepreneur launch a business successfully on a shoestring budget.
All the best,
Doberman Dan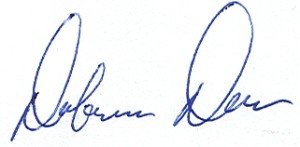 P.S. Here's another thing most online marketers are completely clueless about:
The #1 most important metric we need to know as marketers. (If you wanna make maximum money in minimum time, that is.)
Even though this is metric NUMERO UNO, I'm continually amazed it's something that baffles even the savviest and most skillful entrepreneurs and marketers.
Not only do they not know how to use this metric to make maximum income… most don't even know how to figure it out!
And that's a HUGE problem.
Because the most profitable thing you can possibly do for your business is to understand and ethically exploit this metric.
I've even seen people double and TRIPLE their sales in only a handful of MONTHS once they understand this.
(I boosted my supplement biz sales 1,400% in only 4 months once I figured it out.)
But how in the world can you do that when you don't even know what this metric is… or how to figure it out?
Never fear. I've got your back.
I'm revealing how to do ALL this in the March issue of The Doberman Dan Letter.
It will be mailed out to knights in my Marketing Camelot any day now.
This is something that can change your life… FAST.
In fact, it's probably the master key that will unlock the door to EVERYTHING you want.
Yes, I realize us'ns (marketers) live in a world filled with hyperbole and exaggeration.
Even flat out lies.
But dismissing my claims in this message as such could be the biggest and costliest (monetarily speaking) mistake you'll ever make.
In your entire life.
Look, if you want to make maximum money in minimum time…
(Yes, that's a blatant Halbert swipe)…
Or… if you want to build a business as quickly as possible… and completely CRUSH all your competitors…
…regardless of how long they've been around or how well established they are…
Or… you want to sell your business for 10 times the going price…
Or you just want to get as wealthy as possible, as fast as possible…
The March issue is being printed and prepared for mailing as we speak.
And you can NOT afford to miss out on this issue.
But if you join after the deadline, you'll miss out on this CRUCIAL issue.
Click here to get in on this while you still can.
Pax vobiscum