Monday, [11:47] PM
Dear Friend,
Today you're going to learn the most important secret to success…
Failure!
Yup, when you're swinging for the fences, you're going to strike out… a LOT.
But the secret is to keep getting up to bat, no matter how many times you've struck out.
Believe you me… one home run MORE than makes up for all the strike outs.
And today, I'm going to share one of my very recent strike outs.
I've said it before and I'll continue to say it until you "get it"…
Direct mail is one of the most effective techniques
for generating consistent back end sales…
Here's a letter I sent out to my bodybuilding customers a few months ago promoting a high ticket product.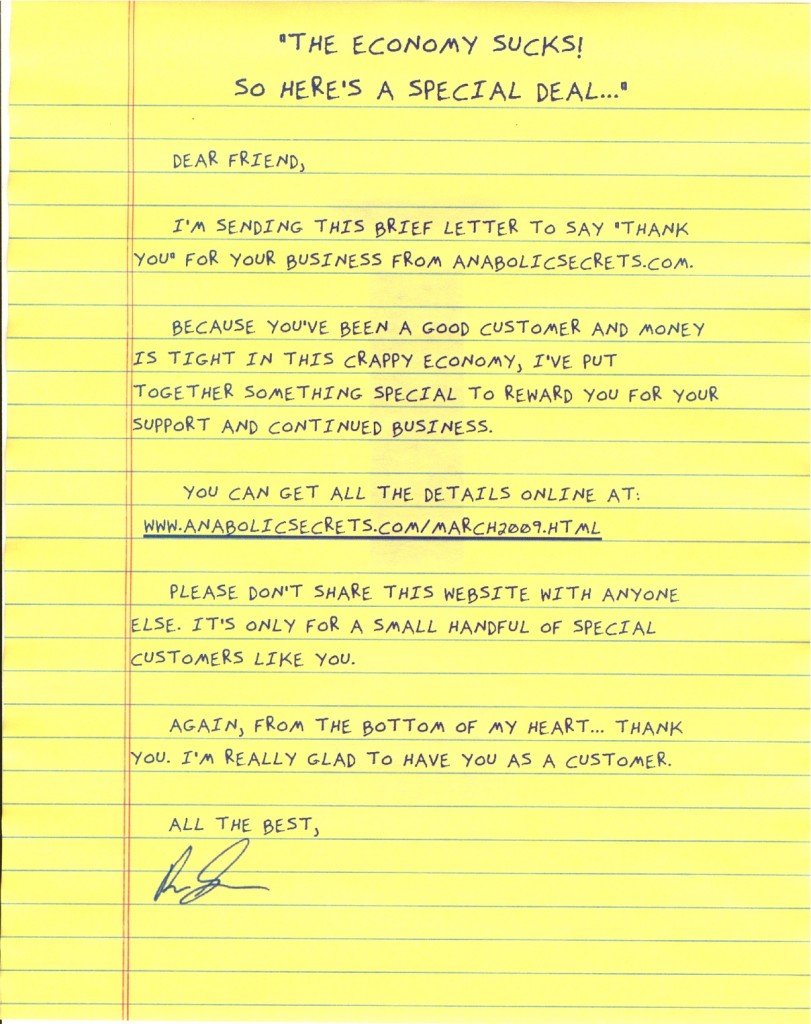 This really is my handwriting (Yes, I write in all caps.) The actual letter was personalized with the customer's first name and printed on yellow lined paper exactly as you see above.
It was sent in a #10 envelope also addressed in my handwriting.
By the way, if you would like to discover how I turned my handwriting into a font, check out www.fontifier.com.
Moving on…
I really wanted to test a personalized hand written letter to a small list of my best customers. I've seen them work like gangbusters on other promotions but I had never tested one in this particular business.
The letter was sent to a recent list of approximately 1,500 multi-buyers. In other words, customers who had bought at least two different times within the previous two months. (Multi-buyers are almost always the most responsive.)
I had really high hopes for this mailing and was already planning the roll-out to the entire list… but…
It Bombed!
I can't believe I didn't catch it but I figured out WHY it bombed after I mailed it. It was something Gary Halbert told me a long time ago… but in my haste to try something new, it totally slipped past me.
Let's have some fun. Let's see if you can figure out why it bombed. I'll give a free 15-minute phone consultation to whoever gets the right answer.
I'll follow up with another article in a few days and reveal the reason this piece didn't work… and had no hope of EVER working.
Looking forward to your comments.
All the best,