Sunday, [8:29] PM
Dear Friend,
Here's a followup to the video I posted yesterday, How To Start An Internet Business For Under $200.
Joint ventures are one of the best ways to to get a LOT of traffic and sales quickly… especially if you don't have any money to invest.
Here's a tried and true way to gain an audience with a "big dog" and ensure you have the best possible chance to JV with him.
Most of the "big dogs" (the very successful business owners with large lists in your niche) will want to know how your offer is converting before they agree to promote your product to their customers.
If you've got a few hundred bucks to invest to see how your offer converts, I suggest using Google Adwords to run some traffic to your site.
If you don't have any money to invest, then you're going to have to do some "grunt work" to get some free traffic. I suggest option #1 mentioned on my previous video.
I've been using this secret successfully for years and should probably keep it to myself. I don't want it to lose its effectiveness if everybody starts doing it.
But it's just too darn good to keep to myself.
So promise me this:
Only use your new-found secret powers I'm giving you for good… never evil, OK? 🙂
All the best,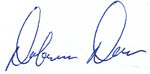 P.S. Click here to download the Word doc I mentioned in the video… and feel free to swipe it for your own use. After all, I swiped it from Gary Halbert!