Dear Friend,
I know we're already two weeks into 2014… so it may seem like I'm a little late to the party with this post.
Here's the reason for my tardiness:
I sent this message to the cherished knights in my Marketing Camelot via email on Christmas day. It was intended for their eyes only.
Apparently I touched a nerve. Response has been overwhelming… and numerous knights have encouraged me to share it with the world.
So I will heed the petitions of my trusted brothers-and-sisters-in-arms and reveal it to you.
So yes, it's a few days late… so let's consider it your "make 2014 your best year ever" message from me.
Below in its entirety is the message I composed and sent to the Knights of the Round Table in the Marketing Camelot on Christmas Day.
What was intended as a very personal message to a group of people very close to me… my loyal knights, my brothers and sisters, the faithful supporters of my vision… I now share with you. And I share it with you with all the well wishes, gratitude and positive emotions originally reserved exclusively for a group of exceptional people.
Dear cherished and beloved knight, brother or sister and faithful friend,
I figured now was a good time to reach out with a little holiday message.
By now the kids (who woke you up at ZERO dark-thirty to see if Santa came) are either outside trying not to shoot their eye out with their Red Ryder BB Gun with compass in the
stock.
And the smaller children may be asleep in a pile of wrapping paper under the tree.
And you and your other half are maybe enjoying some peace and quiet and the warm, relaxing and tingly feeling that comes from an early morning Mimosa.
Maybe there's some Holiday music playing in the background… while all the regular problems you normally deal with on a daily basis have been put out of your mind until tomorrow.
There you sit, watching your family members, thinking only thoughts of love… and maybe a tear or two well up in your eyes as you think of all the things you're grateful for.
A twinge of excitement shoots up your spine thinking about how you'll soon start on several new projects to make 2014 your most prosperous, love-filled and happiest year yet.
Sound corny and out of character coming from me?
Well there are a lot of layers to Doberman Dan and I've only showed you the few surface layers I've wanted you to see.
So even if you think it's corny, that's how I am spending this special day… and I'm VIVIDLY imaging your life filled with peace, love, hope and child-like excitement for 2014.
I've deliberately shared very little with you about my spiritual life… for a lot of reasons. But I'm a man who made many choices to put myself directly in the jaws of death. And for whatever reason, I've been snatched out at the last minute every single time.
That often makes me wonder if I'm just one of the luckiest S.O.B.'s to walk this earth… or maybe my work on this earth isn't complete yet.
I'm not afraid to be honest and admit I am a man who struggles with his faith on a daily basis.
And even though most of the evidence I find seems to point to the fact that we're alone in this vast universe, I still can't stop quietly whispering daily petitions to a higher power for you and your family.
That's how much you mean to me.
If I've let you down in any way…
…If I've been too tough on you…
…If my occasional habit of unleashing my ex-cop and his collection of "colorful metaphors" has offended you or one of your family members…
…If you're disappointed in me because my dream of a true "Marketing Camelot" has still not been 100% realized…
…Or I've done anything else to offend you or hurt you, I'm truly sorry from the bottom of my heart.
I hope you'll use this day as a day of forgiveness and spend these precious 24 hours to simply focus on love.
Yeah, even drunk Uncle Eddie dumping his RV septic tank down the sewer in front of your house…
And your grouchy 90 year old Uncle Lewis with bad toupee setting your Christmas tree on fire with his stogie…
Just love them.
Even if you can't bring yourself to say it to them, say it repeatedly in your head, heart and soul. Believe me, they'll know. It will shine from your eyes like a big piercing blue searchlight.
And one more crazy idea since I'm all mushy and sappy today…
Why not share some of that love with yourself. You're perfect just the way are… and you deserve to be loved.
Just say "I love you" to yourself (or say it in your head) every time those negative "beat yourself up" type thoughts try to enter your head.
Drive them out with love and watch with wonder the miracles that will soon start happening.
Happy Holidays to you and yours!
With all my love,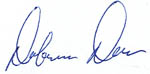 P.S. 2013 has been one of my toughest years in decades… and I wouldn't trade it for 100 million dollars. It has transformed my life in ways I never could have dreamed of.
Strap yourself in for the ride of your life for the 2014 Marketing Camelot. I'm taking the gloves off and, ready or not, you're getting the full hurricane force of Doberman Dan.
I've got things planned for you that will trigger breakthroughs so big it will probably even amaze ME.
I sincerely hope you're ready. It's gonna be the ride of your life.
P.P.S. I do tell you quite frequently how much I appreciate you and admire you for having the guts to stick with me while we construct this grand vision together.
Somehow, that just doesn't seem to adequately express my true feelings… especially today.
So macho ex-cop "street cred" be damned on this fine day. Instead, let me say this:
Every single day, I'm in awe of your creativity, your intelligence, your courage to face situations head on when life serves you up a big stinking pile of crap…
I cherish your loyalty to me and the knights in the Marketing Camelot…
…Your ability to see the vision for this Marketing Camelot and stand by my side, even though I haven't even come close to achieving it yet…
…I admire your desire to fight for your dreams even though just about everybody (including your "friends", family and government) are against you and trying to sabotage you every chance they get.
"I appreciate you" just doesn't cut it today. It doesn't even come CLOSE to expressing what I feel in my heart and soul for you… and how much better my life is for having you by my side in this crazy idea of a Marketing Camelot.
So let me be the true loving person I was created to be and let hard ass old Doberman Dan take a vacation today.
I love you more than mere words can express… and I want you to love yourself, too.
Do that and you're life will change in ways you can't imagine in your wildest dreams.
Thank you for having the courage to stand by my side.
Thank you for having the vision to stand shoulder to shoulder with me and the other knights of the Camelot, moving forward toward our vision.
There is no greater gift in this entire universe you could possibly give me than your courage, faith and loyalty. I value it more than you could possibly know… because you gave me back a life I thought I had lost forever.
If nobody has ever told you this (and what a sin that would be)… listen up:
(I wish you could look into my piercing baby blues so you could SEE and FEEL my conviction… and confirm in your heart without a shred of doubt that this comes from the deepest depths of my soul.)
Harken unto me:
From the very second you exited the womb, you were perfect.
And no matter how many years have passed since that wonderful day… you are STILL perfect.
There are special and unique things that you and ONLY you can do on this earth.
So let's get to the "doing" part of your life plan as soon as possible in 2014. Lots of hurting people are desperately waiting and praying for you to share your unique gifts with the world. And YOU are the only one who can bring them into fruition.
Whatever has happened in the past has disappeared into the ether. Let's stop looking in the rear view mirror.
2014 is your year and I pray I have the honor and privilege of standing by your side to witness the amazing things you're going to unleash upon the world this year.
Pax vobiscum