Dear Friend,
I've spent the last year in a state of semi-burnout.
Actually I should say I've had the good fortune of being ABLE to spend the last year in a state of semi-burnout. My existing projects are pretty much on "auto pilot."
And that's a good thing because I've had very little desire to do any real work.
Sure, I've done what was needed to keep things rolling along and money coming in (that only takes about an hour a day) but I haven't taken on any new clients or started any new projects or businesses.
But my brain never stops coming up with new stuff. I've got a whole bunch of potential projects on the back burner. I just haven't had the desire to start any of them.
All that changed a few weeks ago after attending copywriter extraordinaire, Carline Anglade Cole's "Copywriting Bootcamp on Steroids" in Atlanta, Georgia.
She kept the seminar to only 20 people so she could tailor it to EXACTLY what each attendee needed.
I told Carline what I really needed was to get my "mojo" back. I wanted to be excited about writing copy again so I could get back to work on all the money-making projects I'd come up with.
Carline was like a Marine Corps drill instructor… and gave me the kick in the pants I needed.
I came home and hit the ground running.
I'm working like I did when I first discovered direct response copywriting. That was back when I had a job I hated and would burn the midnight oil creating project after project so I could quit being a wage-slave.
So thanks to Carline I'm "in the zone" again… and enjoying it.
All this got me to thinking about something Ben Settle shared with me a few months ago.  He likes to keep a balance between client work and his own projects.
He says the client work keeps him sharp because he gets to work with different products and new markets… and his own projects bring him in steady cash flow in between client work.
Hmmmmm… client work keeps you sharp?
Uh oh!
I stopped accepting clients back in 2005. Most of them were a royal pain in the arse… and I was glad to see them go.
But Ben has a good point. So I've been thinking…
Maybe it's time for Doberman Dan to take a client or two so they can take advantage of my newfound motivation and energy.
And it will get me working in different niches and exercising my gray matter in new ways.
A true "win-win."
But I won't work with just ANY old guy or gal who can pay my fee. Nope… it would have to be the RIGHT client… and for me those are pretty rare.
Who exactly is the "right" client?
First of all, you're a nice person and easy to get along with. If I can't stand to be around you, I definitely can't work with you.

 

 

You're honest to a fault.

 

You are a P.W.M. (Player With Money) You understand building a business takes an investment… and you have the money to invest. You have the capital to roll out online and offline… and squeeze every possible sale out of your market… as quickly as possible. (Speed is a big secret for gaining as much market share as possible.)

 

You understand the value of having an experienced direct response marketer and copywriter on your team… and you're more than happy to share a small percentage of increased sales with your new team member.
Who is NOT the right client?
If you're struggling financially and have to borrow the money to pay my advance… then you don't qualify.

I'm not going to accept your "rainy day" money or your kid's college fund.

 

 

You're anal-retentive and "major on the minors."

Most of the successful entrepreneurs I've  worked with have the "ready, fire, aim" approach. You don't have to get it perfect… you just have to get it going. We can tweak and correct things as we go. If you want to analyze everything for six months and run it by your wife, brother in law, shrink or astrologer… forget it. We will NOT be compatible.

 

You're already thinking about ways to weasel out of paying my advance and royalties. See #2 and #4 in the 

Who exactly is the "right" client

list above… and then don't even THINK about contacting me.

 

You expect me to perform a financial miracle in your life… without any risk whatsoever on your part.
It's true… I HAVE performed what some people have called "miraculous turnarounds." You can read about one here.
And it's possible you'll experience something similar. I'll perform all the "magic" I know to make it happen for you.
But it's also possible we'll have some flops.
Heck, the biggest direct response companies in the world usually only have one or two home runs out of every ten projects.
And these are companies that can afford the best, brightest and most experienced copywriters, list people, project managers and marketing minds in the entire direct response world.
NOBODY bats 1000% all the time.
So if you're a big boy or girl and recognize that everything in life, including running a business, has some risks… and not everything is going to be a home run… we'll get along fine.
But if you expect me to perform a miracle and make you richer than Bill Gates overnight… forget it. We WON'T be working together.
Do I sound tough? I'm not really. Most people say I'm a pretty likable guy.
It's just that over the years I've learned what I DON'T want in my life. Once I defined that, it made my choices much easier. I know exactly who I DON'T want to work with.
So after all this, if you think you qualify… what should you do next?
That's easy…
Click here and send me a message with your name, e-mail and telephone number. Also explain the following things in detail:
Please explain specifically what you are selling.
What is your monthly marketing budget for roll out?
What is your deadline for this project?
Describe your best customer or ideal prospect.
What media are you currently using to get customers? (PPC, banner ads, magazine ads, direct mail, etc.)
Give me an idea of your current results (visitor value, conversion rate, ROI, etc.)
How many customers do you currently have on your house list?

How many eZine or newsletter subscribers do you have?
Feel free to add anything else you think I might want to know.
And don't worry… your submission is completely confidential. I won't share this info with ANYONE.
Since I haven't been available for client work in such a long time, I fully expect to be completely SWAMPED with submissions. But I promise I'll personally read each one and will give your project careful consideration.
Don't feel bad if I don't accept you as a client. I reject about 98%. I only work with projects I personally find interesting… and am really confident I can hit a home run with.
"OK, Dan… bottom line…
How much do you charge?"
My advance is $15,000. This is NOT negotiable.
I also usually get a 5% royalty of gross product sales.  Some times it's more, some times it's less. Depends on the product and market… but 5% of gross is pretty standard.
Here's something I've NEVER done before…
Based on a recent survey of my subscribers, a lot of people REALLY want to start a direct response/Internet business… but have been held back by plain old fear and a lack of knowledge and experience.
So here's an idea that will get your greed glands flowing…
I'll GIVE you one of my personal projects!
Look… I have so many projects on the back burner that I'll NEVER be able to get to them all.
These are projects that I have already researched and decided that the product and niche have a high likelihood of success… enough that I would personally pursue them.
But since my time and resources are limited… I MIGHT be willing to offer one of these projects to the right person.
So if you currently don't have a product or business of your own… or are looking to start another business and income stream…
This is your chance to get a "Doberman Dan Approved" project…
And have me work hand in hand with you every step along the way!
I've already blazed the trail for you and can guide you through everything you need to know about…
Product creation…
Testing… with the least amount of risk…
Product fulfillment…
Order taking…
Customer service…
Call centers…
Merchant accounts (This can be a NIGHTMARE if you don't know the ropes)…
Proven places to advertise… and how to buy advertising at 80% off "rate card"…
Putting your business on "auto pilot"…
And many more tips for a successful direct response/Internet business.
You'll basically have me guiding you through all the minefields I've already been through (NUMEROUS times) to get your business up and running… and making lots of fungolas… as quickly as possible.
But it ain't gonna be cheap.
If I select you for this option, my advance fee is $30,000. (50% payable upon start of the project and the remaining 50% payable before we start testing.)
The backend royalty will probably be higher than 5%. It will probably be around 10%… but could be more or less depending upon my commitment level in your business.
If you think you might qualify for the "Doberman Dan Approved" project click here and send me a message with your name, e-mail and telephone number. Also explain why you think you qualify and what product or niche you might be interested in.
This is the first step of qualifying so you really need to sell yourself.
If I get a message that says, "Me likey idea gimme project so make lots munny before xmas thanks, your suscriver Dick"… then you just failed the first qualification step.
(Don't laugh. I've actually received messages like that.)
I gotta run.
It's been good chatting with you again. I look forward to hearing from you soon.
All the best,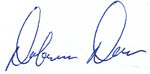 Doberman Dan
P.S. Everybody asks what my life is like having a business on auto-pilot. It's awesome actually!
I wake up whenever I want and have a nice leisurely breakfast. Then I work for an hour or so, making a couple calls, checking ad results and reading e-mail.
After that I do stuff that's fun for me. I practice the guitar, write and record music in my home recording studio… I also do gigs with my band on the weekends.
Three times a week I workout in my home gym and then hang out by the pool reading or listening to music.
I play with Donner, the devil dog.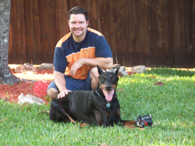 (Isn't he cute?)
I live my life and do the things that interest me… without having to worry about making money.
It's really fun.  Every day feels like a Saturday.
But it wasn't always like this.
Eleven years ago I was trapped in a job I HATED. I was only going to work there a couple years… but got stuck there for 12 years.
I felt like a slave. They controlled me… told me where I could live, what kind of car I could drive… what hours I worked…
And I worked horrible hours… 4 PM to 2AM. And worked almost every weekend and holiday.
And get this…
All my peers told me what a great job it was.  If I could stand it for 25 years I could retire on 70% of what I COULDN'T live on at 100%!
And my cost of living increases didn't even come CLOSE to keeping up with inflation.
Everybody I was associated with at the time (including my mother) told me that job was probably the best I could do with my life.
So I know what it feels like to be trapped in a dead end job not able to live life on your own terms. It sucks out loud.
I believe what I'm teaching can save your life. Because if you're in a job like I just described… you are literally going to die.
Statistics say you have a 95% chance of being dead or broke before age 65.
But it's actually WORSE…
All the years you spend working in a mind-numbing job like that… well… it starts to kill your soul. And that's way worse than death.
You just keep putting in your time day after day, month after month, year after year on the "hamster wheel" just waiting for the day when you can FINALLY retire and do what you really want to do.
Look, my friend… if you stay on that path you'll never make it to retirement. In addition to killing your soul along the way, you'll be dead and buried before you ever get to that magical moment when you can start living life on your own terms.
If you really want to be free… you have to do it NOW. Start doing the things you want to do TODAY. You may not have very many tomorrows left.
I can promise you this…
It won't be easy starting a business that gives you this kind of freedom. I struggled a LOT along the way.
No, it won't be easy… but it will be worth it.
When you're free the struggles and sacrifices will just be vague memories… stepping stones along the way. You'll forget all about the pain of childbirth as soon as you're holding that beautiful baby in your arms.
Wow! My "PS" really went off on a tangent, didn't it?
Look, the bottom line is this…
I really believe with all my heart that a life lived on the "hamster wheel" is a slow, painful, mind-numbing death. With God as my witness, I really want to save you from that… if you really want to be saved.
Most SAY they want to be saved… but are unwilling to make the sacrifices. That's sad.
That's so sad.
A Dream Deferred
What happens to a dream deferred?

Does it dry up
like a raisin in the sun?
Or fester like a sore–
And then run?
Does it stink like rotten meat?
Or crust and sugar over–
like a syrupy sweet?

Maybe it just sags
like a heavy load.

Or does it explode?
But I think YOU are different.
You really ARE willing to do what it takes to build a business that allows you to have the kind of life most people only DREAM about.
My sincerest desire is to give you the guidance you need to accomplish it.
Peace.