Dear Friend,
I don't like to get up early.
So when the phone rang the other morning at [6:30], I normally would have let voicemail get it. But this time I decided to answer.
The caller (a new client) was pretty excited. And judging by his peppy demeanor at [6:30] AM, he already had his morning coffee.
"You've RADICALLY changed my life. The past couple months have been like a dream. I was broke and in debt when I first contacted you… but with your help I paid cash for a Cadillac, bought my first Rolex and a bunch of other high-priced toys and put $120,000 in my personal savings account!"
I've said it before… I really like being the hero.
But I find it really hard to get excited about anything at [6:30] AM.
I think I mumbled "you're welcome" and double checked that he had the right address to send my royalty checks. (No matter how groggy I am, I do NOT forget that.)
This guy had good reason to be excited. Before I started working with him he had been averaging sales of about $5,500 a month for the past 12 months.
Here's a screenshot from his shopping cart account that shows his sales from the previous year… and what happened after I started working with him in January 2006: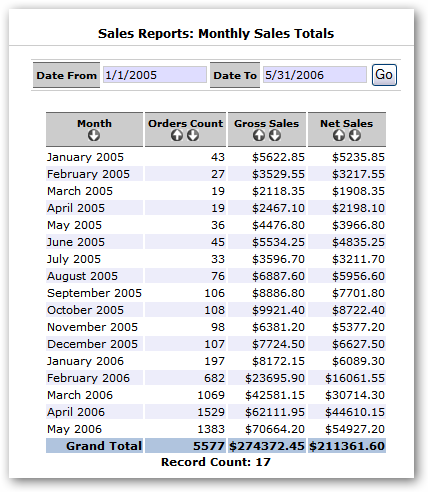 We started implementing my strategies starting about the middle of January 2006. By the end of February he had a 400% increase in his average monthly sales from the previous year.
Not bad, huh?
It gets better.
Look at May 2006. That's just shy of a 1,300% increase from the previous year's sales… in only five months!
A lot of business owners try to hire me so they can experience a massive increase in business quickly like the client in this example.
It can be pretty exciting. But as your business increases, so do your challenges. And you better be prepared for it.
Let me give you a few examples of what happened to my client:
About 45 days into our "marketing makeover" the client called me in a panic. He didn't know how to manage the tidal wave of business, fulfillment center problems, merchant account problems, etc.
I calmly repeated something I once heard Gary Halbert say…
"Those are not the kind of problems I solve.
Those are the kind of problems I CAUSE!"
We actually had to put the brakes on this thing and stop rolling out. It was growing too fast and the client's infrastructure couldn't handle it.
The first thing that happened was his fulfillment center was not prepared for a surge in orders this big. They had to scramble to hire new people so they could keep on top of all the orders and customer service calls. They got it under control fairly quick but things were frantic for a few weeks.
The second thing that happened was a little scarier.
The merchant account bank security department called wanting to know what the hell was going on. These guys are simply not accustomed to seeing a 1,300% increase in sales almost overnight.
A sane intelligent person would assume that you could explain the reasons for the business increase and everything would be fine. You're making more money, they're making more money… everybody's happy.
Not true. The bank is NOT happy when they see exponential increases in your sales.
Nope. That has to be investigated. You could be a terrorist or a money launderer… or something even more heinous like a successful devout capitalist.
And if you rub these guys the wrong way, they'll shut your merchant account down in a New York minute. Then they'll drag their feet for months investigating you.
Let's do the math on that:
No merchant account = No sales = Out of business!
Oh, and by the way, while the bank is investigating you, they freeze your bank accounts.
After educating my client about the wonderful ways of merchant account banks, he was worried.
But have no fear, Doberman Dan is here. (Kinda like "Under Dog" but better looking… at least according to my mom.)
Rather than see my client lose sleep about the possibility of having his merchant account shut down, I hooked him up with a merchant account who "gets" our kind of marketing.
There was just one catch. He had to have a reserve account where they hold 5% of all his daily charges. They pay interest on this money and if there are no problems, they release half of the funds in the reserve account every six months.
Hey, this is standard procedure for higher volume merchants. The banks do it to protect themselves and have money to cover any chargebacks should you decide to up and go out of business. With the reserve account, the bank is not left holding the bag.
It's actually a good thing. What usually happens is you forget about it so every six month's when the bank releases half of the funds, you get an unexpected big payday.
If all that weren't enough to handle, my client's lab (he sells health products) couldn't handle the big jump in volume. So once again, I had to spring into action and set him up with a lab that could handle big product volume with a much faster turnaround time.
Then he realized that he wasn't set up properly to handle the influx of customer service requests. Sure, the calls were getting answered and e-mails forwarded but things started falling through the cracks.
So guess who he leans on to solve that problem, too?
Yup… DD comes through again.
I set him up with an online customer support ticketing system. Basically, every customer request gets assigned a ticket number and then assigned to a customer service rep. The owner can log in and check the status of all the tickets and see if they're getting resolved properly.
The client told me I was his lifesaver through all this. I guess I had been taking all my accumulated knowledge and experience for granted. He reminded how much value there is in what I've got stored in my cranium.
Yes, it's exciting to see rapid increases in your business… but you need to be prepared for the challenges and problems that come along with that. Don't think you're going to be able to make a lot more money without changing and growing and being able to handle new and bigger problems.
It can be scary navigating these waters alone. A mentor with firsthand experience with this kind of stuff is worth his weight in gold.
Thankfully, I had Gary Halbert. He saved my ass a bunch of times.
And now I know what it feels like to save somebody from making mistakes that could have cost them muchas fungolas… and years of lost time.
Maybe I'll be able to do the same for you some day.
Just don't call me at [6:30] in the morning to thank me.
All the best,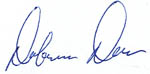 "Doberman" Dan Gallapoo
P.S. Here's where you can discover EXACTLY what I did to help my client experience this big increase in sales… so YOU can experience the same RAPID increase in income… WITHOUT all the problems.
P.P.S. How about if in the next post I reveal a simple secret you can use right away to DOUBLE your business in 59 days or less. If you aren't doing this (especially if you have an online business) you're leaving at least 50% of your potential sales on the table every single month.
Don't miss it.