Dear Friend,
I owe a big debt of gratitude to Dan Kennedy.
He's the main reason I wound up in direct response marketing. His "Magnetic Marketing" kit is what got the ball rolling for me.
Back then spending $397 for a manual and some cassette tapes seemed ridiculous. But his ad was sooooo compelling. I just knew it had to have the secrets necessary to make me rich.
And that first exposure to Dan Kennedy led to more and more stuff… which actually did make me rich.
Dan Kennedy is one of my mentors and heros.
So imagine my surprise to see little old me featured in the "Copywriting Corner" of Dan Kennedy's Marketing To The Mass Affluent Letter.

Click here to  read the article.
Dan said…
"On a 1-10, looked at in isolation as a copywriting job, I'd give it a 6.5. However, Dan more than earned whatever fee he charged by doing something few copywriters do for their clients and something few marketers trouble to do for themselves… he METICULOUSLY picked the prospects the postcard was sent to."
I would even say Dan was being generous rating the postcard copy a 6.5. I really didn't put much effort into it. I spent a grand total of 3 minutes writing the copy.
That is definitely not a typical job for me. When I have a REAL gig… I eat, sleep, live and breathe the project until the copy sings its little heart out.
So let me give you the "behind the scenes" scoop about this promotion and why I deliberately didn't bother to put much effort into it.
The client wasn't paying me a dime up front… and had no intentions of ever paying me anything on the back end either. (In fact this client is COSTING me $4,000+ a month!)
The client was my recently-divorced ex-wife. (I should've told her to go pound salt… but I still have a soft spot in my heart for her.)
So there you have it. I had very little motivation for this gig.
But since I'm great at strategizing and choosing lists, I knew even a mediocre copy job could get some kick-ass results.
Don't believe these alleged copywriting gurus who claim they have such a gifted pen they can sell anything to anybody. It just ain't true.
If you have selected the right audience and the right message to match it, you can scribble your copy in crayon on the back of a grocery bag and you'll get a great response.
That's why I almost never accept a client who only wants me to just write their copy.
But if the client gives me free reign to select the strategies, lists and media… I know I'll produce a big winner and wind up being a hero.
And I like being the hero.
So, yes, I admit I did a half-ass job on the copy for this project.
But $36,000.00 in annualized income from a $240 investment ain't too bad, huh?
Click here to read Dan Kennedy's article.
All the best,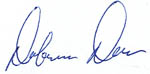 "Doberman" Dan Gallapoo
P.S. I'm pretty excited about my next issue. I'm going to reveal how I took a client's average sales from $5,000 a month to over $70,000.00 a month… in only 119 days!

I can't guarantee you'll be able to get a 1,300% increase in sales like he did, but you should come away with several ideas to help you get a lot of new customers quickly… and put a lot more pesos in your pocket.

Hasta luego.